FIAT 500 Coilover Kit - MADNESS "X-Sport" by V-Maxx - 20+ Damping Adjustments
FIAT 500 Coilover Kit - MADNESS "X-Sport" by V-Maxx - 20+ Damping Adjustments
Product Information
$879.99
Drive now, Pay later with Affirm!
Learn More
or with PayPal
Both options will be available upon checkout.
The #1 selling Coil Over Kit for the FIAT 500 just got a BIG Upgrade!


Manufactured in Europe to strict German TüV standards, not in China!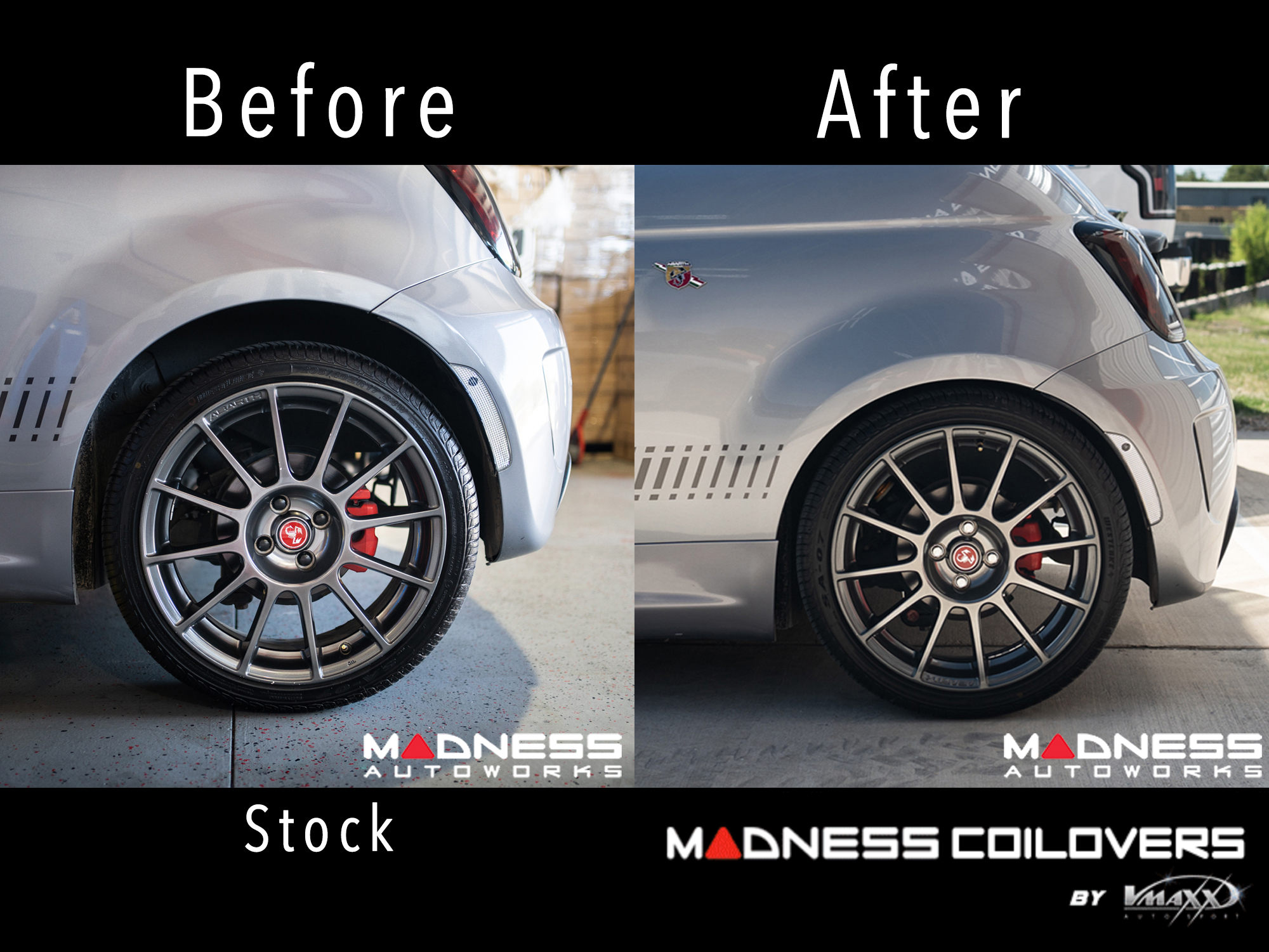 The MADNESS X-Sport Coilover Kit is manufactured for us under contract in Netherlands by V-MAXX. These Coil Over Kits are of the highest quality and were designed to meet and exceed the strict and difficult to obtain German TüV certification. The kit comes with a full 2 year manufacturer warranty. Rest assured that when you choose this coil over kit, you are choosing a set that is not only high quality, but also an excellent value!

This kit gives you maximum flexibility in setting the perfect ride height for your FIAT 500. Height is adjusted from low to very low with the adjustment tool included. No other kit will allow you to lower your 500 as low as this kit without doing additional modifications.
This X-Sport Version offers you all the benefits of our "Autosport" version , but also adds 20+ click damping adjustment for the front and rear of the FIAT 500. The adjustments are done by a simple twist of the knob. The new X-Sport Version allows you to adjust the damping from comfortable to track ready and firm.

All kits are produced to the highest quality standards with sporty but comfortable spring and damping characteristics for both daily and sporty use.

This newly upgraded X-Sport Version also features the following upgrades:

Designed to fit ALL North American Versions of the FIAT 500
Additional 30mm of spring travel over the original version due to changed rear adjuster and spring design
Additional 20mm of lowering over the original version due to more spring travel and new rear adjuster/ spring design
Softer and more progressive bumpstops
Improved stance due to the additional lowering options
15mm extra lowering available with new design
100% legal and TUV Approved - new TUV Documentation
Newly designed shocks with added dust caps
Enhanced rebound




Features:
Manufactured out of Automotive Grade Steel
High Gloss Zinc Treatment for corrosion protection and great looks
Heavy Duty Black Aluminum Spring Seats for optimum strength
Multi position adjustment tool included for easy ride height adjustment
Twin Tube Gas Shock Absorbers
Shocks are fixed a with factory sport setting for sporty/ comfortable ride
Suitable for both daily driving and occasional autocross weekends
Springs are Zinc Phosphate Treated and Red Powder Coated Finish for optimal corrosion protection
Springs are Progressive Rate to enable proper lowering on relatively short spring travel*
Average drop ranges from: Front 35-70mm Rear 35-80mm
Manufactured in The Netherlands
Approved by very strict German TüV

*Progressive rate springs allow you to properly lower your 500 on relatively short spring travel while maintaining a proper sporty ride. A progressive rate spring is relatively comfortable when it is not compressed, but when your car is loaded with more weight or when you are braking or cornering hard the springs get progressively stiffer in order to prevent you from bottoming out your suspension.

This system was designed for those that would like to have the ability to significantly lower the ride height of the FIAT 500. Please note that when you install this kit you will have the ability to significantly lower your vehicle and as you lower your car you will significantly upgrade the handling of your car, but you will give up the comfortable ride of a stock suspension. This X-Sport Kit also gives you the ability to adjust damping to allow you to further customize your ride to your preference.