WE SHAPE STEEL TO CREATE UNIQUE SPORTS EXHAUSTS
A team of highly motivated, creative and dynamic professionals enables to make increasingly high-performance and technically advanced silencers and tailpipes for mass production. The team develops custom projects that meet the needs of each individual customer on the latest generation of cars and vintages cars that have made history.

30 YEARS OF PASSION FOR STEEL
A Veneto-based company founded in the eighties when Enzo Ragazzon started the production of reinforced standard silencers. In the nineties the company entered the world of tuning with lines of high-performance sports silencers and created the first duplex exhaust (two tailpipes on the right and left) which was also tested and type-approved.

Absolute leader in its category.
Today Ragazzon S.r.l. is a leader in the production of sports and "custom" silencers, thanks to its thirty years of experience in the sector and the high quality of the raw materials selected. The company is increasingly present on the national and international market and its Quality Management Systems have been certified by Fakt Certification Services.

LEADERS OF INNOVATION
The close cooperation between commercial staff and technical and production departments brings about an efficient swapping and a proper processing of information, crucial for anticipating market trends in order to bring onto the market cutting edge products.

Experts study carefully each single vehicle, diameter and thickness of the various stainless steel pipes, they calculate runs and curves to improve the flow of the exhaust gases so they can design the most appropriate silencer, by shape, size and manufacturing techniques, all to ensure the right sound without slowing down passing gases.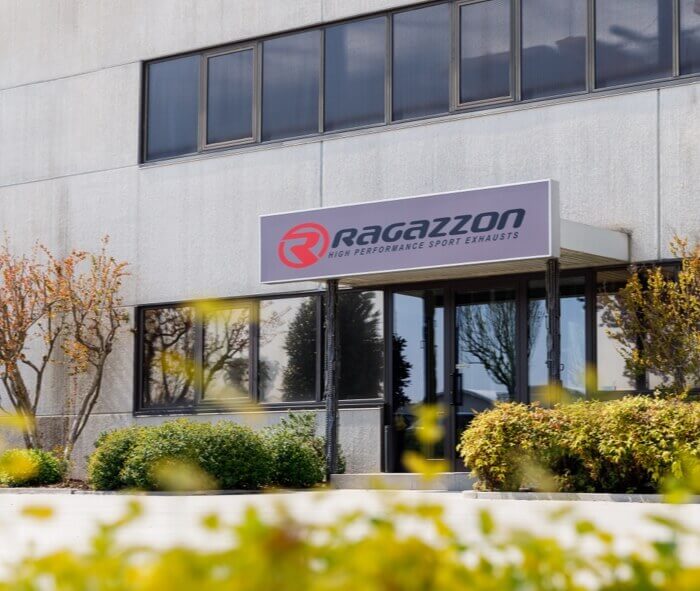 QUALITY, GUARANTEE, SAFETY
The production process is carried out entirely in the company's factory. This is where the 3 main components are made: pipes, silencers and tailpipes, which are available in different designs and materials..

Attention to detail in the manufacture of each individual silencer guarantees maximum quality and durability for each product.
Another feature of all the Ragazzon silencers is their sound, which undergo strict testing and checking to ensure they comply with the EEC type-approval directives.
A large and modern warehouse allows us to guarantee worldwide express delivery.

Showing 1 to 31 of 31 (1 Pages)
Showing 1 to 31 of 31 (1 Pages)