FIAT 500e Throttle Controller - InterStar PowerPedal
FIAT 500e Throttle Controller - InterStar PowerPedal
Product Information
$199.99
Drive now, Pay later with Affirm!
Learn More
or with PayPal
Both options will be available upon checkout.
Get the most out of your FIAT 500e with the InterStar Power Pedal!
Control throttle response from your smart phone or smart watch!

Want to improve throttle response?

Would you like to minimize the lag you feel from the pedal?
Want improved response from your automatic transmission?
Want to be in control of how your vehicle responds?

The Interstar PowerPedal is a premium quality product that is designed to give you the driver control over throttle response. The product is manufactured to the highest standards in Austria (EU) and adheres to all the strict safety protocols that are mandated in Europe (EU has stricter certification standards and laws for these types of products than the US) for products like this.
The InterStar PowerPedal will provide you with noticeably better response and improved acceleration.
World First!
The new InterStar PowerPedal can now be controlled by your smart watch as well as your smart phone!
Easily adjust throttle response from your smart phone or smart watch. The module tucks away and easily syncs with your phone or watch. You will be easily cycle through the 4 settings in seconds. Select the mode that works best for your driving style and conditions and the module will keep this in memory even when the vehicle is turned off. Turn it back on and it will revert to the last setting automatically.
Want to change to a different setting? No problem! Simply select the new setting on your phone or watch and the pedal module will automatically go in to the new setting and keep that in memory until the next time you want to change it.
Going for a spirited drive? Select Race.
Stop and Go Traffic? Select Dynamic.
Rain, snow? Select Off.
With the PowerPedal you are in full control!

APP CONTROLL
Easily control settings directly over your smartphone. Easy to use app is available for free for Android and iOS

BLUETOOTH CONNECT
Innovative Bluetooth connection
Control with your smart phone or smart watch!

MORE THAN 16,000 MODELS
The interstar PowerPedal is available for more than 16,000 different vehicle models. Contact us for options for your other vehicles.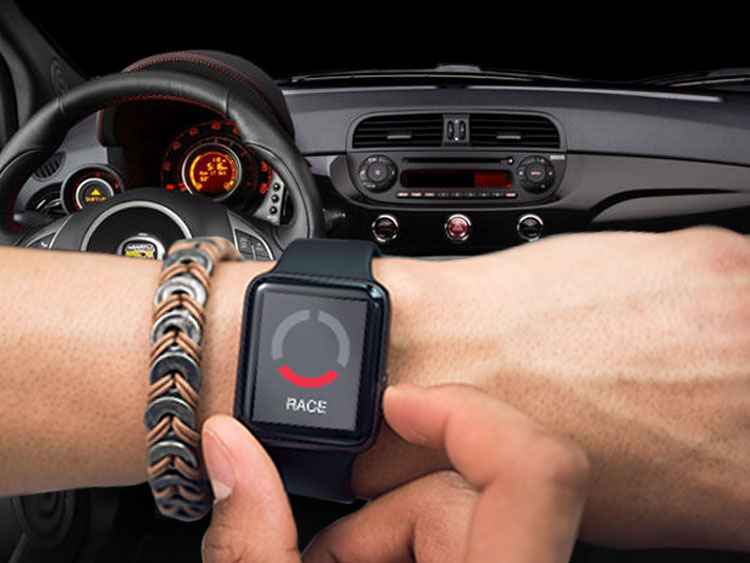 PowerPedal: what exactly is it?
Every modern vehicle is equipped with a so called drive-by-wire accelerator pedal. All new vehicles have this in common. The days of a cable being attached to the back of the pedal are long gone.
Today's throttle pedals are actually nothing more than modules with sensors that convert the movement of the accelerator pedal into an electronic signal when you push down. Depending on this electronic signal, the engine accelerates the vehicle more or less. To meet the customer's global expectations in all types of driving conditions (such as snow and ice, etc.), the electronic accelerator pedal is often programmed very 'lazy' - meaning you have to push the pedal far down and quicker if you want to drive away a little bit quick, overtake another car or drive uphill.

With the PowerPedal from InterStar, the performance of your vehicle can be significantly improved. The performance improvement can be set to 4 levels with an easy to use smartphone or a worlds first smart watch app.
The installation of this product is very simple and is done very quickly.
PowerPedal Settings:
•Dynamic; Dynamic driving, more driving pleasure in daily traffic.
•Sport; Sporty driving, ideal for in and around the city.
•Race; Aggressive throttle response, for very sporty driving.
•OFF: You can quickly and easily disable the PowerPedal via the app
Features:

Made in Austria
Does not void any manufacturer warranty
Easily Installed
Fully Reversible in minutes
Controlled by a smart phone or smart watch
Free App available in both Android and iOs Stores
Vehicle Specific Modules and Software
Over 16,000 Vehicle Specific Applications
Plug and Play Installation
The functions of the InterStar PowerPedal are controlled via your smartphone and free app. To pair the PowerPedal with your smartphone, follow the steps below:
Open the Google Play Store or the Apple App Store with your smartphone.
Search for the free InterStar App and install it.
Activate Bluetooth under the settings on your smartphone.
Start the ignition of your vehicle with built-in PowerPedal.
Open the downloaded InterStar App.
Select the PowerPedal button.
CA Residents:
WARNING: Cancer and Reproductive Harm - www.P65Warnings.ca.gov