FIAT 500 Gen 2 Floor Liners - 3D All Weather - Pro Line - Black - Hybrid
Product Information
$106.99
Drive now, Pay later with Affirm!
Learn More
or with PayPal
Both options will be available upon checkout.
Protect your FIAT 500 Gen 2 Hybrid from the elements with these High Quality Floor Liners.


Manufactured in Europe by an OEM Manufacturer ensures a great fit, high quality and durability!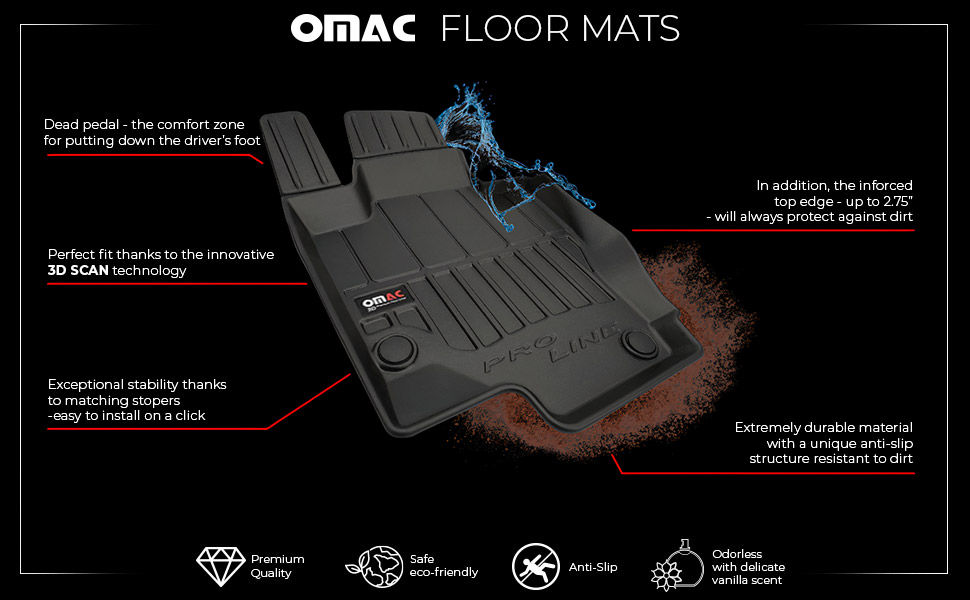 OMAC ProLine floor liners brings you the best quality with affordable price.
This is a Must-Have product for rainy, snowy and muddy days to protect the floors of your FIAT from mud, salt, oil, water, scratches or any dirt in any season of the year!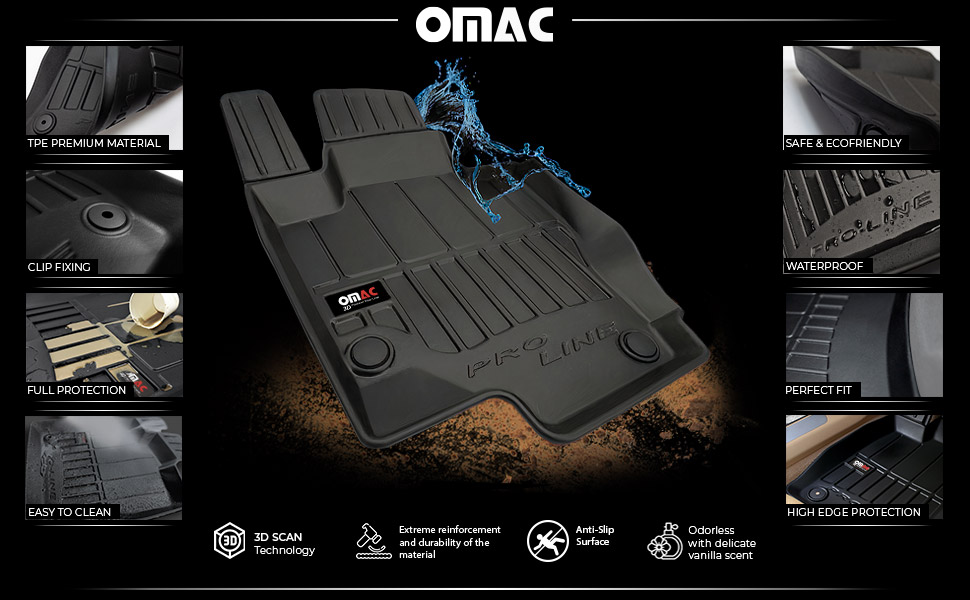 WHAT MAKES OMAC PROLINE LINER SPECIAL?
MaxEdge Technology ™
Comprehensive protection and excellent stability!
OMAC ProLine mats has a unique feature – the highest edges on the market – up to almost 3 inches which guarantee that the dirt accumulated on the mat does not spread beyond its area!

PowerHalt Unique Surface Tecgnology ™
Luxurious comfort and unique prestigious finishes
The unique material structure of OMAC ProLine car mats gives an elegant effect and better anti-slip technology than any others! Distinctive design gives an individual character of the interior and always decorates the interior of the car to be unique in every way!

UltraFlex Dual Polymer Technology ™
Extreme durability and strength
Unique composition of two materials with the highest resistance to abrasion even in extreme conditions. It retains its flexibility and elasticity -58 degrees Fahrenheit to 230 degrees Fahrenheit! (-50 degrees C to +110 degrees C )

OMAC ProLine car mats are also resistant to chemicals, UV and abrasion. The material of ProLine car mat is definitely the thickest but at the same time most durable of the entire OMAC product range for liners!
Certified recyclable materials
Safety and modern environmental protection
OMAC ProLine car mats are made of certified materials that are harmless to health, respecting the protection of the environmental. The material is %100 recyclable!
PERFECT MATCH
Innovative 3D Scan
We precisely use innovative 3D technology and scan the interior of cars so that the rug fits perfectly! All of them made for a specific car model. Each model tried on ''live'' and then started to sale!
We take into account not only the make and model of the car but also we make sure about the year of manufacture and the body! As we said perfect fitment guarantee!
Dead Pedal
It has a unique comfort zone for putting away the driver's foot. Its not half-covering of the surface like other products in the market. ProLine covers all of them and minimize the contamination!

Features
Designed for the FIAT 500 Gen 2 Hybrid
All-weather
TPE (mixture of rubber and plastic polymer)
Premium Quality
Anti-slip
3 Inches Thick
Durable
Long Lasting
Vanilla Scent
Eco Friendly
Luxurious
OEM Preferred Thickness
3D Laser Scanning
Easy to Clean
Vehicle Specific
Waterproof
Clip Fixing